ERRAC is launching its Ambassadors programme for steering rail research in Europe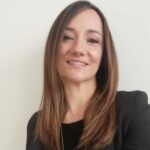 Interview with the new Ambassador and Technical Expert on Multi-Modality, Alessandra Berto
In 2022 ERRAC, the European Rail Research Advisory Council, has launched its Manifesto of Future Mobility, that recognises the crucial role of rail and focuses on its key advantages, that are also focus areas for R&I. In the context of the Manifesto, ERRAC has opened the positions of Ambassadors, one for each focus area: Sustainability, Inclusivity, Individuality and Multi-Modality. The first Ambassador, acting also as Technical expert, has been appointed for Multimodality and we sat down with Alessandra Berto, from FS Italiane Group. We take the occasion to remind that three ERRAC volunteering Ambassadors are still to be nominated, join us!
Alessandra, give a short presentation of yourself.
I have been in the railway sector almost 20 years. Since 2003 I have worked at FS Italiane Group, where I currently follow EU-funded R&I programmes and projects. I was also Programme Manager at Shift2Rail Joint Undertaking. My background includes a Master's Degree in Business Administration, a Doctorate in Engineering, a Bootcamp on Entrepreneurship at MIT. In the last years I have been a speaker at conferences, lecturer at university courses and co-author of documents on rail and transport related topics. Last but not least, I am a traveller, grown up in my family's travel agency, and a commuter that has personally shifted to mobility provided as a service. I am very excited join ERRAC: as Ambassador and Technical Expert on Multi-Modality, as I have the possibility have my say on the topic, and I encourage other applicants to make a step ahead and be my fellow ambassadors and experts.
Which are key trends impacting R&I in the European rail and transport sector over the last years
We are facing an unprecedented period. Pandemic waves, an ongoing military conflict and energetic, food and materials supply issues overlap to mega trends like climate change, growing urbanisation, ageing and digital inequality of population. The European socio-economic landscape is rapidly changing.
Firstly, "crisis is the new normal". As travel demand is growing again and a new horizon is appearing beyond the clouds, the sector stakeholders at all levels -including policy makers, transport operators, industry and academia- are setting the direction accordingly. However, endemic crises act as shocks to the system and require frequent adjustments of direction, speed and path; this makes it challenging to develop a stable long term approach.
However, and secondly, "the wound is where the light enters.". The crises, that we couldn't avoid, had also positive effects; among the others, they have ignited an acceleration on technological developments and their adoption on the wave of behavioural changes.
Thirdly, we "live in exponential times". As the technological developments enable an increasing speed of change, it becomes of outmost importance to govern it and to improve the resilience and flexibility of the rail and transport system. This is expected to be achieved through an efficient innovation ecosystem, fast pipelines and real synergies, towards a stronger European R&I Area.
In this context, the transport system is expected to embrace these changes adapting very quickly – which is a major challenge by itself – while supporting the overall stability and the economic growth.
What is your view on multimodality and why is it important for rail?
Mobility of people and goods should be easy – not overwhelmingly complicated, flexible, door-to-door, seamless, accessible, inclusive. In practice, planning and managing a multimodal trip – with a combination of transport modes – may be discouraging, resulting in a barrier that hampers customer use of public transportation, of which rail is the natural backbone. Instead, an easy multimodal transport is a key factor for a good quality of life of a very large group of European population and a step ahead to make mobility accessible for everyone. Additionally, it would support a shift of customer choice towards a greener transport mix, reducing traffic congestion and supporting European environmental targets.
For transport stakeholders, improving multimodal mobility means understanding and anticipating the needs of customers and communities served and formulating an increasingly door-to-door offer that is effective, competitive, sustainable. In this view, rail is considered as a natural backbone of a transport system that includes public transport, i.e. light trains, metro and bus service, but also shared mobility and bike sharing, with stations as modal interchange centres.
What the rail and transport sector together with ERRAC can do for multimodality
Transport and rail sector stakeholders are taking sound individual initiatives to support multimodality – and operators among the others. Taking the one that I know better, FS Italiane Group -where I work- foresees large investments. By 2031, ca. 15 billion euros will be allocated to integrated mobility for passenger; a particular focus is on urban mobility and promotion of tourism. Other specific actions relate to multimodal freight terminals, integration of road and rail infrastructures, connections to airports; focal areas include exploitation of data, connectivity, internet of things, automation, touchpoints and digital payments. Globally, these initiatives and the induced modal shift are expected to generate a reduction in CO2 emissions of approximately 7.5 million tonnes per year.
However, many common challenges are too big and complex to be tackled individually and, on the other hand, several technological applications can largely benefit from a unique supernational direction. These are some of the reasons why ERRAC is important for the sector, to provide clear guidance on its priorities to policy makers and to act for the whole sector as a facilitator and a catalyst towards the common European objective to deliver seamless, smart and inclusive mobility systems for people and goods thanks to user-centric technologies.
Updates on ERRAC and its Manifesto of Future Mobility
The European Rail Research Advisory Council (ERRAC) brings together main stakeholders of rail and transport sector to discuss rail research priorities, sector developments to be pursued and challenges to be tackled to shape a favourable funding landscape for R&I initiatives. This period is a new fresh start for ERRAC, after the launch of the new Framework Programme Horizon Europe and the takeoff of the new Partnership Europe's Rail JU.
Earlier in 2022, ERRAC has released the Manifesto of future mobility, addressed to European policy makers, regulators and governments, with the purpose to recognise railways' crucial role in "greening" transport and provide clear focus on key advantages of railways. Its motto states that railways are the first choice for mobility – and shall be the backbone of Multimodal Transport-., and the focus areas point out that they are Sustainable, Inclusive, Individual as well. These are key aspects where the European Railway R&I needs to focus; new technological advancements shall support these areas and boost attractiveness and affordability of passenger and freight services.
What is the role of the Ambassadors and open positions
The role of the Ambassadors at ERRAC is twofold as it includes also activities as Technical Expert. As Ambassadors, we will promote ERRAC activities and support ERRAC in communicating the sectorial vision and R&I priorities, within main research and innovation events as well as social media channels and dedicated activities, towards the European institutions and key stakeholders. As Technical expert, we will have also the possibility to provide advice and expertise in the context of future strategic documents that aim to shape the long term Rail vision as well as research and innovation activities in Europe.
ERRAC is looking for other Ambassadors, one for each of the focus areas of rail passenger and transport sector: Sustainability, Inclusivity, Individuality – as I have already covered the position on Multi-modality. I encourage fellow applicants to make a step ahead and join us!
If you are interested in joining the ERRAC Ambassador Programme, please contact juergen.schlaht@siemens.com.